Don't throw your Christmas Cards away! I guess this was the year of good ideas for Christmas Cards. What do you do with other people's cards? How do you display them? We used to have this cute little mailbox tree we put them on but it was short lived. So my first inspiration for the Christmas Cards came from this
fellow blogger
...
I should've taken a picture before I just took it down, I loved seeing all the cards while I cooked in the kitchen.
Well, then I was throwing out my cards and on Facebook saw this
post
. So I quickly took the few cards from the trash out and put them in this bag so we could pray for a family a day in 2012. Who doesn't need some prayers going up for them! What a fabulous idea! It's so much better then just tossing the cards too! Those things cost money people and although I'm a horrible with coupons, I hate wasting money!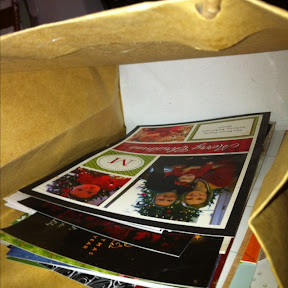 So thank you Allison and Jenae for great ideas for Christmas Cards this year!